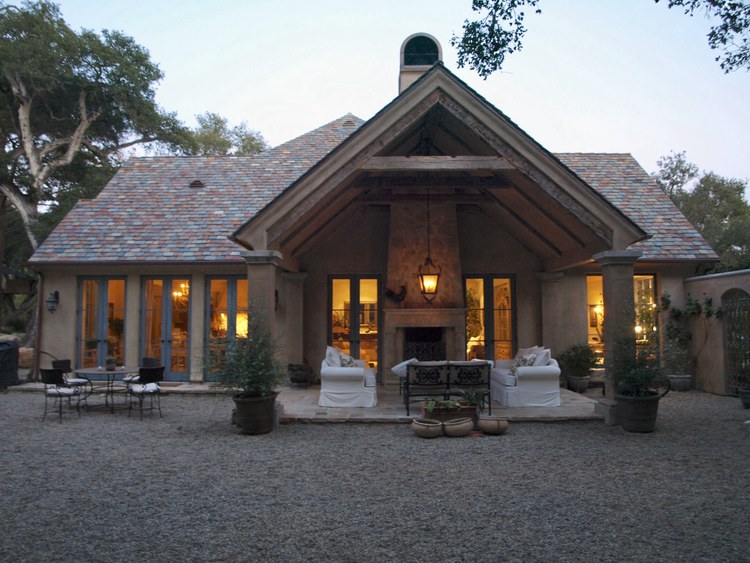 Surrounded by oaks, the outdoor living room of this French farmhouse (pictured) enjoys mountain views and a seasonal creek, notes designer Elyse Pardoe. The property's ambiance is rural and quiet, yet shops shops and restaurants are just a short walk away, she adds. Such are the perks of geography and climate while making a home in Santa Barbara, and Pardoe has an experienced eye for bringing together sophisticated architecture and design, inside and out, with the region's natural beauty. Her company, Hall Pardoe Design — founded with her mother, Jill Hall — offers design/build services, interiors, and staging. We caught up with her to talk about the family's multigenerational artistic bent and finding peace in the chaos of a creative life.
G&C: What drew you to design early on?
Pardoe: I grew up surrounded by design. My grandmother was an artist and had an array of artist friends that peppered my thoughts with ideas. My mother started out in set design and later moved to interior design. We joined forces and continued to do building and interior design together.
What has been your favorite work-related field trip or vacation?
I am incapable of choosing one. My two favorites were a trip to Italy and a trip to France with my mother, exploring every tiny and large detail of design.
What is your favorite public space in Santa Barbara?
Architect Britt Jewett's office building.
Another location you find pleasing to the eye?
Post Ranch, Big Sur.
Where do you find design inspiration outside of work?
Everywhere in nature, so I can steal ideas and bring as much of what I feel there indoors.
What do you most like about your job?
Manifesting the ideas in my head and seeing them come to life.
What do you most dislike about your job?
Witnessing the waste of materials.
If you had to go back to pick another profession, what would it be?
I had another profession before design, working with children. I would have to say, I would return to that.
What is your current state of mind?
Peaceful amongst the chaos of creativity.
What is your idea of perfect happiness?
Finding balance in all things in life.
What is your greatest fear?
That we as a people will not learn to care for the planet properly before it is too late.
What is your greatest extravagance?
Meandering through nature as if I had no responsibilities.
What do you consider the most overrated virtue?
Righteousness.
Which talent would you most like to have?
The ability to sing on key.
If you could change one thing about yourself, what would it be?
That is a difficult one. I am a constant work in progress and embrace growth immensely. I also know that there are two sides to many "flaws" that enable the desired side, and if given up, one must lose both sides.
What do you consider your greatest achievement?
Learning to listen and interpret a clients words and apply it in a way that meets their desires.
What is your most treasured possession?
My grandmother's books.
Which living person do you most admire?
My husband who has morals that seem somehow outdated these days and the patience of a saint.
What do you most value in your friends?
Honest intimacy.
Who is your favorite fictional character?
I'm stumped. I think my mind is drawn to real life characters.
Who are your heroes in real life?
Also, a difficult one. I am hard pressed to select a few. Anyone who is genuinely kind is a hero to me.
On what occasion do you lie?
Possibly when the truth would be too painful for someone to hear.
What is your most marked characteristic?
Trustworthiness.
What word or phase do you most overuse?
Can't say I have one.
What is your motto?
Be authentic in expressing yourself in every area of life.