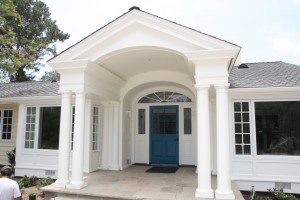 Surrounded by a family of homebuilders, Santa Barbara-native Jerry DeHoog grew up on job sites. His first construction work was digging ditches for foundation footings, and he watched many new houses go up, dirt to doorknob. Along the way, he discovered his specialty. "I realized at a young age that finish work is like the cherry on top," he says. "It's the best part of building, and it's a lot easier on the body." It also makes a strong impression, he adds. "Finish carpentry is one of the last things done but the first thing you see."
In his twenties, DeHoog emerged from beneath the family wing to set out on his own, focusing on interior finish carpentry, mainly windows, doors, baseboard, and crown molding.
In the mid-1990s, he relocated to Las Vegas, where he spent nearly years working for the same contractor, specifically on high-end new homes for the movers and shakers of the valley. DeHoog says that one year working the burgeoning Sin City build boom equalled three years back home. Any way you do the math, the experience positioned him at the top of this game. Plus, he had a cool boss. "He allowed me to think outside the box and try new things." DeHoog remembers, "I use to brainstorm with my boss frequently on how to be more efficient while maintaining the highest quality on upcoming projects."
Back in Santa Barbara, DeHoog became licensed in 2002, launched Trim Works in January 2003, and started working with Giffin & Crane in June 2003, specializing in the installation of custom doors, windows, hardware, plus decorative millwork.
Also, once a year, he teaches a workshop in Santa Barbara City College's Construction Technology Program on how to hang and hardware doors.
"It's a way for me to give back a little and to help me with public speaking," he says. When he gets some free time, DeHoog enjoys hanging out with his girlfriend Julia, firing up the backyard barbecue for friends and family, and going to concerts.
As far as work goes, "I'm just trying to capitalize on a certain skill set," he said recently while touring two Giffin & Crane job sites, where attention to detail is as important as high-quality working relationships between client, contractor, and subcontractor. And it sure doesn't hurt that he's doing something he truly enjoys.
"I was very fortunate to start working with Giffin & Crane," adds DeHoog (pictured, below). "They have amazing projects, wonderful clients, and everyone has always been helpful along the way."
(By Keith Hamm, with photo courtesy of Trim Works)