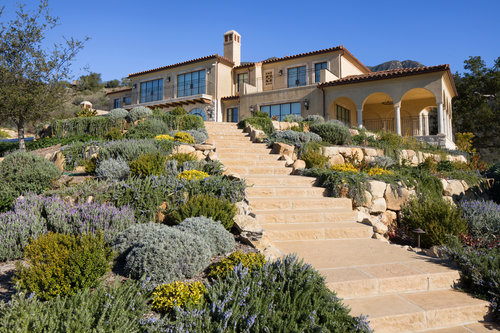 XERISCAPE DESIGN AT CIMA DEL MUNDO: "I'm impressed that my clientele has taken water issues seriously," says Steve Hanson. "It's almost prestigious now to opt for drought-tolerant landscaping and water-saving irrigation systems."
---
At the age of 14, after moving around the state a lot with the family, Steve Hanson landed in Santa Barbara, a freshman at Santa Barbara High School who liked to draw and surf. When he graduated in 1978, he accepted the senior-class art award with a smile and wasted little time diving deeper into his talents. Focussing on abstract painting, he took art classes at Santa Barbara City College. He also turned pro as a competitive surfer, sponsored by the venerable Channel Islands Surfboards.
"I had some success in the water," he remembers of his three-year stint in the professional ranks. But he also considered a longer view of his life down the road. By 1987, he had graduated with a fine arts degree from California Institute of the Arts, near Los Angeles. Back in Santa Barbara he got a job working for Don and Dave Harris, landscape installers who worked for designer Ray Sodomka at the Turk Hessellund full-service nursery on Coast Village Road in Montecito. "I learned a lot from those guys," Hanson says, adding that he enjoyed the heavy lifting of landscaping work. "I liked digging and getting my hands dirty."
At the same time, Hanson was showing — and selling — his art through his connections to the Los Angeles art scene. Soon enough, a sensible path played out before him, leading him to UCSB to secure an advanced degree in fine arts. "My goal was to teach art at the university level and keep painting," he says. "It seemed like the perfect combination," he added, and a career track not uncommon for many dedicated working artists. Life had other plans, however.
Hanson married, and the prospect of becoming a family man energized him into looking into more lucrative lines of work. He realized that he could parlay his artistic sensibilities into landscaping design and installation. Steve Hanson Landscaping become official — with his wife Stephanie heading up the administrative side — in the mid-'90s. In 2000, he became a licenced contractor. That's when things really took off, he says. These days, Steve Hanson Landscaping has 110 employees and offers a spectrum of services, from hardscaping and fencing to installation and maintenance. "The success I've had has surpassed my expectations," he reflects, emphasizing that the all good fortune has been less about himself and what he's done and all about the company's collective teamwork on any given day.
Looking up from his busy schedule, Hanson finds himself reaching for a paintbrush. "I'm still connected to the art community," he says. "The goal is to get back to that someday."