Overlooking San Ysidro Creek in the quiet Montecito foothills, the 1.4-acre parcel was home to mature sycamore and oak trees. The idyllic setting was a compelling empty canvas. But it also presented unexpected challenges. Could a newly constructed single-family residence live up to the surrounding splender with minimal disturbance?
Faced with the regulatory reality that any new home could not compromise the surrounding riparian health, the building's footprint was confined to small open spaces between the drip lines of the sprawling canopies.
"Right away, I visited the property alone several times," remembers architect Howard Wittausch, who came up with the idea to design the home to fit within the tight envelope described by the woodland and the required 25-foot setback from the top of the creek bank. "It would be very challenging to build, with lots of acute angles [pictured below]," he says. "The owner liked the idea."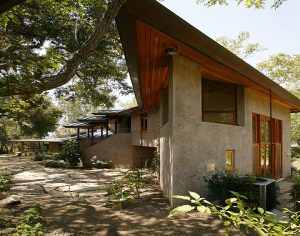 As backup, Wittausch presented an alternate design of intersecting rectangular structures that would have cut construction costs by half, he says. But the owner vastly preferred the first option. "She wanted to live in a work of art," Wittausch adds. "The artistic side of this project would reign supreme. And she wanted something very modern but warm to the eye and warm to the feel."
However, designs that look fantastic on paper don't always translate easily during construction. In fact, the original contractor underestimated some of the project's many formidable challenges, and it was decided that Giffin & Crane step in, Wittausch remembers. "I was looking forward to working with Giffin & Crane; I had always wanted to work with them on a special project."
A shortlist of the home's many custom features: fiberglass-reinforced pea gravel stucco made extra-smooth with long aluminum screed boards; copper roof and gutters; windows and doors by Architectural Millwork; stonework by Pat Scott Masonry; eve-mounted exterior fire sprinklers; a cantilevered concrete deck projecting into the riparian setback; and a board-formed concrete chimney (pictured below) by Concrete Impressions.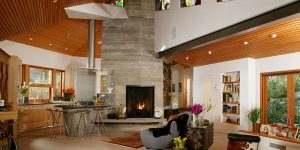 "Knowledgeable subcontractors can be as important to a design process as the architect," Wittausch says. "And sometimes even more so, because they really know the methods and tools it will take to fasten certain materials the right way."
The main house measures roughly 2,800 square feet, with three bedrooms and three bathrooms, plus a 600-square-foot art studio. Outside, there's a detached two-car garage with an upstairs office. All of it blends with the natural surroundings while standing alone as a distinct one-of-a-kind home.
Reflecting on the project, Wittausch said it's "the highest achievement in my career. That house is written in time—it will never be dated."
(By Keith Hamm, with photos by Jim Bartsch)