As you can imagine, orchestrating extensive remodels and building high-end custom homes can be a challenge. With the work comes a sense of accomplishment, of course, but the team-building distillation of various players — moneymen, architects, subcontractors, laborers, inspectors, and many others — into a finished product pleasing to the client can also get a bit stressful.
That's why Giffin & Crane Superintendent Chris Leonard builds guitars.
Leonard, 56, who grew up on live music — from Aretha Franklin and Cream to Bob Marley and the Grateful Dead (and his father's accordion polkas) — built his first guitar a few years back, not long after deciding to teach himself how to play.
"Playing guitar is all-encompassing," he says, referring to that state of hyper-focused creativity musicians slip into during a good jam session. He gets the same escape in his garage workshop, where he fabricates his own jigs and clamps, and has a spray booth for applying topcoats to his custom instruments. "While I'm playing or building guitars, everything else goes away," he says.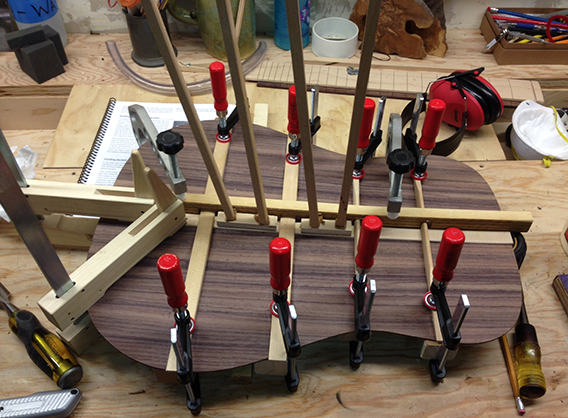 In terms of his long history at Giffin & Crane, Leonard laid a foundation as a carpenter in his native Canada, where he completed an intensive four-year apprenticeship program at the Northern Alberta Institute of Technology. That training and follow-up work went a long way toward landing a job at Giffin & Crane more than 25 years ago, when he dropped anchor in the warmer climes of Santa Barbara. He stared out as a finish carpenter before setting his sights higher.
"My goal was to move my way up through the ranks," Leonard says. "You can only swing a hammer for so long."
His past experience on the ground floor helps him oversee project quality, he says, but the true key to the realm is being able to communicate effectively with a spectrum of skill sets and personalities. Whether he's working with tradesmen just learning to speak English or playing the middleman between architects and building-code bureaucrats, "there's a lot of tact to it," he says.
Leonard also makes an effort to recognize and appreciate advancements in training and technology. "Those kids straight out of college with degrees in construction management, they're on the cutting edge, and I'm all for hearing expert opinion. A job is always a team effort."
And when a job is done, Leonard (pictured, below) heads back to his guitar workshop to clear his head.
(By Keith Hamm, with photos courtesy of Chris Leonard)