When a family-favorite hangout spot needed an upgrade, the owners teamed up with Giffin & Crane to make it practical, functional, and easy on the eye. The project's manager Steve Potter has the details.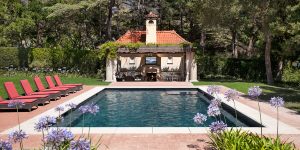 Why change the pool? 
Steve Potter: The pool had grass right up to the edge. It looked good but didn't function well. Clippings were continuously getting into the pool, and during pool parties the ground would get saturated and the kids would track dirt into the water.
One thing we had to consider was making sure that the new concrete coping around the edge of the pool had enough grip so that you wouldn't slip but it also needed to be gentle on bathing suits. That involved pouring the coping with an aging compound, then sandblasting it a little, and then machine- and hand-sanding it for the final pass. The last step was adding stain to the fresh concrete to make it look like it had always been there.
With the remodel of the pool we were able to add a built-in spa and also a concealed cover. The previous cover was housed in a monstrous box at the end of the pool. We did away with that and sunk the cover spool into the ground.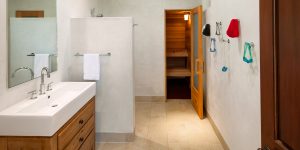 How about inside?
The pool house bathroom was huge but at the same time too cave-like. We put in a skylight and refreshed the walls with a light waterproof plaster, completely changing the feeling. We also added the sauna. It literally came in a kit off the internet, custom-sized to our space, and was really efficient to install.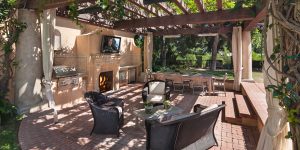 How about the outdoor living space? 
We upgraded the kitchen appliances and added an outdoor TV and wifi service to the patio area. We also added pool controls in the main house so that they could turn on the spa ahead of time without having to walk the 100 yards between the house and pool.
Anything else about the process?
The project was conceived with our estimators and out in the field, and it really came to life in our weekly meetings with the owners.
(By Keith Hamm, with photographs by Jim Bartsch.)