The Turrichi family had found a great parcel, that's for certain: a flat Montecito acre with lots of oaks and peek-a-boo ocean views. But the house? Not so great. It was time for a remodel.
"The house was a hodgepodge, a hot mess, a mix of the '70s and the '80s," says Lannette Turrichi (pictured, above right). "We didn't know if was Spanish-style or ranch-style or what. It bugged me—the way it was laid out, all these doors, and very dated." To begin the process of making it their own, the Turrichis decided to remodel the kitchen, while living at home with three young children. They met with Bruce Giffin, introduced through the listing agent.
As the first of three substantial contracts the Turrichis signed with Giffin & Crane, that painless and ultimately fulfilling kitchen remodel lead to a second project, focussed on upgrading the detached guest cottage. And last but certainly not least, they pulled the trigger on a "down-to-the-studs" remodel of the main house. For that one, architect Tom Meaney played a big hand; he's good at rearranging disjointed floor plans into living spaces with good flow.
"After that first experience with the kitchen, we felt we had formed a good partnership with Giffin & Crane," Lannette remembers. "It was like, 'Oh, my gosh! We actually like this contractor!' Bruce helped us have a vision and completely accommodated us as our vision transformed."
The Turrichi vision crystallized when Bruce gave the family a blanket for Christmas. The blend of wool and cashmere was warm, comfortable, and luxurious. Later, when Bruce asked Lanette what she wanted her home to feel like, she answered, "Like that blanket."
Bruce called a meeting with Meaney and site superintendent Derek Shue — and the three grown men on a multimillion-dollar project had a long talk about a very special blanket.
"And the best part about it," says Lannette, "is we had a contractor who didn't blow me off or make fun of me because of that. Bruce embraced it."
Fast forward several months— through "a beautiful ballet" of creative powwows, through spontaneous design adjustments on site, through teams of "very respectful subcontractors," says Lannette — to an end result: a new and large home for the growing Turrichi family, with four bedrooms, six bathrooms, and sophisticated architectural lines.
"When I pull into the driveway and unlock the front door, I get little goosebumps," Lanette says "I feel so comfortable in my home. It's my blanket."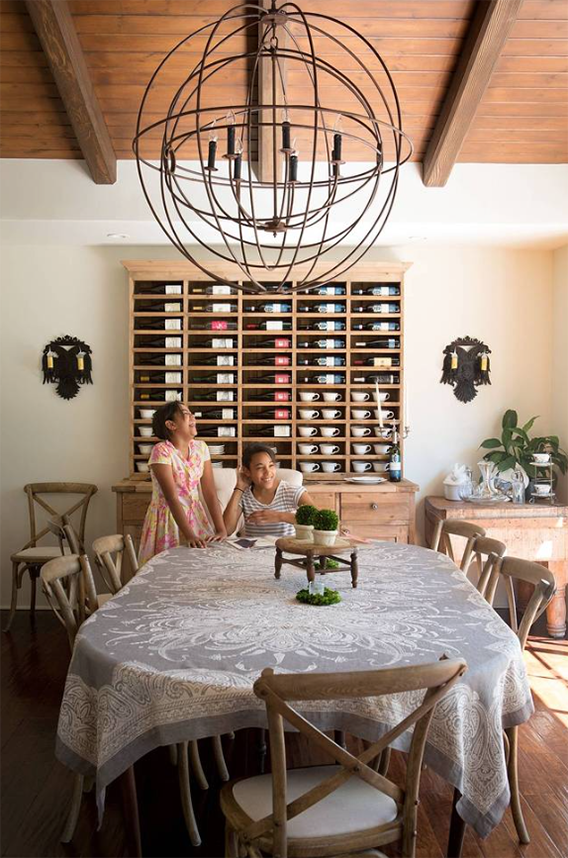 (By Keith Hamm, with photos by Coral VonZumwalt)