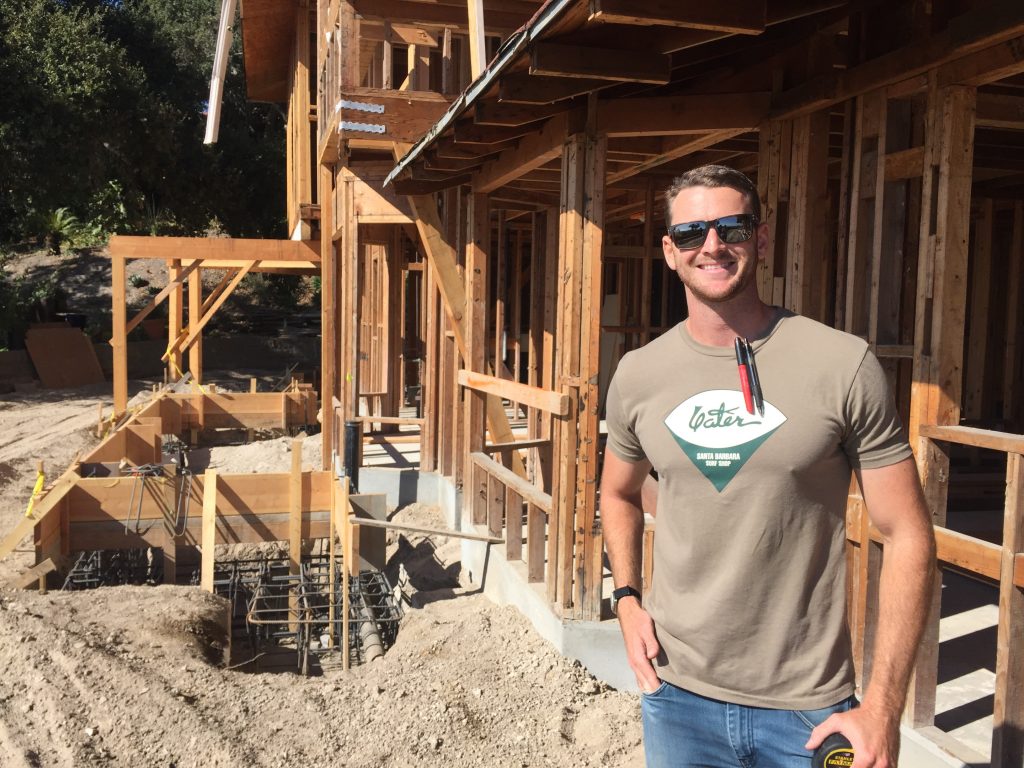 From a Giffin & Crane job site on Pepper Hill, where the view stretches from Montecito Peak to the Channel Islands, Jim Vaughan can see many of the stomping grounds of his youth. Growing up, he hiked the creeks and trails in the nearby mountains. Along the coast, he built beach bonfires and surfed with friends. In the quiet neighborhoods in between, he went to school, rode bikes through the hedgerows, and played lots of tennis. 

Like many families, the Vaughans moved to Montecito for its reputable schools and semi-rural tranquility. Jim's dad had been a construction superintendent when he returned from the Vietnam War before shifting to commercial real estate. He eventually transitioned to residential real estate and, in 2008, founded Montecito Village Realty Group.

Jim and his big sister attended Montecito Union and Santa Barbara's secondary schools. All the while, Jim was a competitive tennis player, putting in a lot of court time at Knowlwood Tennis Club and Birnam Wood Golf Club. On a tennis scholarship, he attended Southern Methodist University.

After graduation, he played professionally for about a year and worked as a tennis pro at the Biltmore resort in Montecito until an injury hampered his athletic career. Fortunately, through his father's background, Jim had a strong connection to the construction and real estate fields. He found a new direction.

"I got into homebuilding through a year-long training program at Toll Brothers, a national firm," Jim says. "I was brought up through management, and the next thing I knew, I had over a 100 homes behind me, including the company's first modern architectural collection."

Living and working in Orange County at the time, his direction again took another turn — this time as the catastrophic debris flow of January 9, 2018, destroyed the neighborhoods of some of his childhood friends.

Santa Barbara County's worst natural disaster made an instant impact on his life, Jim remembers. "It became my clear directive to come home to see what I could do to help."

Back in his hometown, Jim was introduced to Giffn & Crane through a mutual friend. Jim knew the company by reputation. "Growing up in Montecito, it was pretty hard to miss knowing who Bruce and Geoff were."

"I didn't even know they were hiring," he remembers. "I guess they liked me — I was lucky enough to be brought on in June of 2018 as a superintendent." He started as part of a company strike team in the aftermath of the debris flow, helping longtime clients recover from a range of damages.

"I come from a production atmosphere, where time and cost efficiency are everything," he says. "I would like to think I certainly bring a forward-pushing perspective to our projects."

Now on the Pepper Hill project — a full rebuild of a four-bedroom, single-family residence on nearly two acres — Jim pauses for a moment to take in the view and give credit to his mentors, past and present.

"Being a commercial and residential broker — and a builder in his past — my father certainly gave me my first taste of real estate development and what makes a good home," he says before rattling off a substantial list of subsequent influencers, including company co-founders Bruce Giffin and Geoff Crane, plus Executive Vice President Derek Shue. "They've certainly shaped the way I execute my job and professional stature."