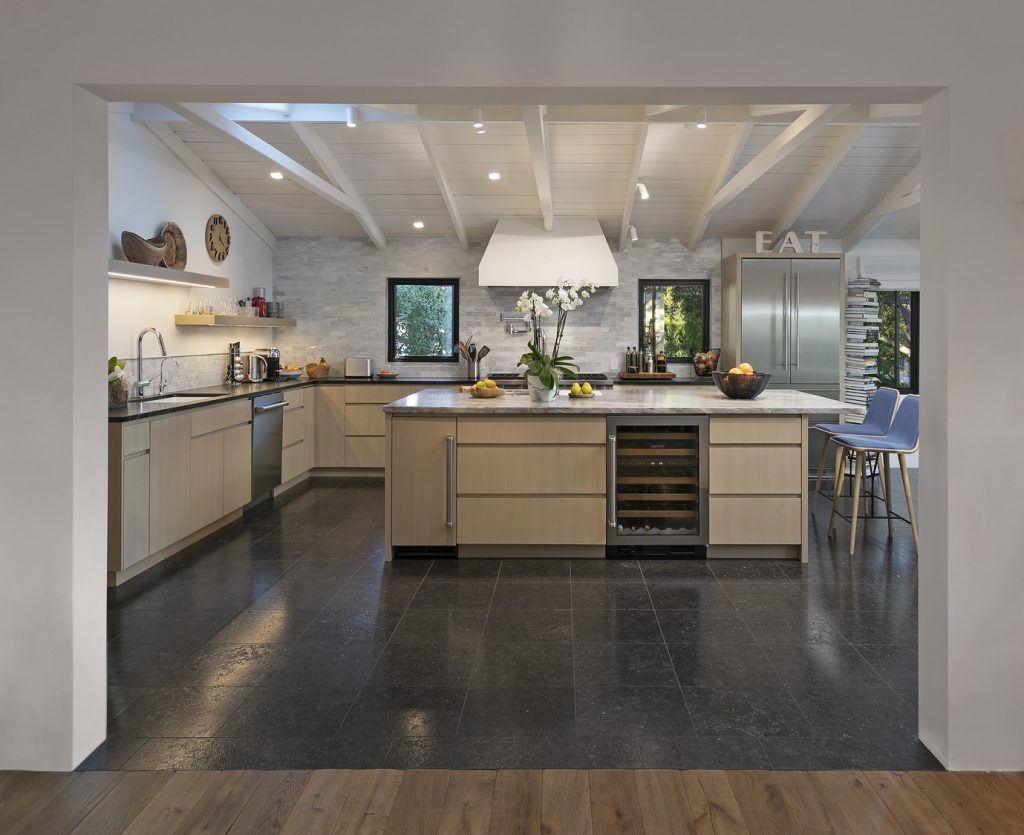 When she was just a kid, Barbara Lowenthal remembers admiring Santa Barbara's world-class architecture. She credits it with inspiring her taste for design, which eventually led her to certificate coursework through UCSB Professional and Continuing Education. In 2005, she joined Harrison Design, heading up its West Coast office for interiors.
Outside of work, she was a founding member of the boards for the Pearl Chase Society and the Courthouse Legacy Foundation, and was formerly board president of the Museum of Art Docent Council and a member of Santa Barbara's historic landmarks and planning commissions.
For a comprehensive remodel on Garden Street's famed Crocker Row, Lowenthal was also part of the team honored in 2015 with the city's Edwards/Plunket Award for exemplary design for the renovation, restoration, or rehabilitation of a historic structure.
In the following quick questionnaire, Lowenthal reveals a weakness for books and how perfect happiness can be found in food with family.
G&C: What drew you to design early on?
Lowenthal: Walking to Roosevelt Elementary School. I always took different routes so I could look at houses and wonder about the interior details.
What has been your favorite architectural field trip or vacation?
Havana, Cuba, in 1996.
What is your favorite public building in Santa Barbara?
The Courthouse.
Where do you often find design inspiration?
Everywhere — nature, gardens, fashion, walking down any street, and store windows, especially in Paris.
What do you most like about your job?
Collaboration with other professionals, designing interiors that reflect our client's sensibilities. It's so fun to design in many genres.
What do you most dislike about your job?
Paperwork.
If you had to go back to pick another profession, what would it be?
Author.
What is your current state of mind?
Upbeat.
What is your idea of perfect happiness?
Dinner with my children and grandchildren.
What is your greatest fear?
I prefer not to be fearful.
What is your greatest extravagance?
Books — fiction, nonfiction, design books, and magazines.
What do you consider the most overrated virtue?
Temperance.
Which talent would you most like to have?
To play the piano.
What do you consider your greatest achievement?
Living my life on my own terms.
What is your most treasured possession?
The most treasured part of my life is my family and friends.
Which living person do you most admire?
Stacey Abrams.
What do you most value in your friends?
Their love and support.
Who is your favorite fictional character?
Aurora in Larry McMurtry's books, especially The Evening Star.
Who are your heroes in real life?
I am always amazed at anyone who perseveres in times of disaster, trauma, etc.
On what occasion do you lie?
What? Never. Only to protect the innocent.
What is your most marked characteristic?
Ability to go with the flow.
What word or phase do you most overuse?
"Best Regards,"
What is your motto?
There's always the next time.