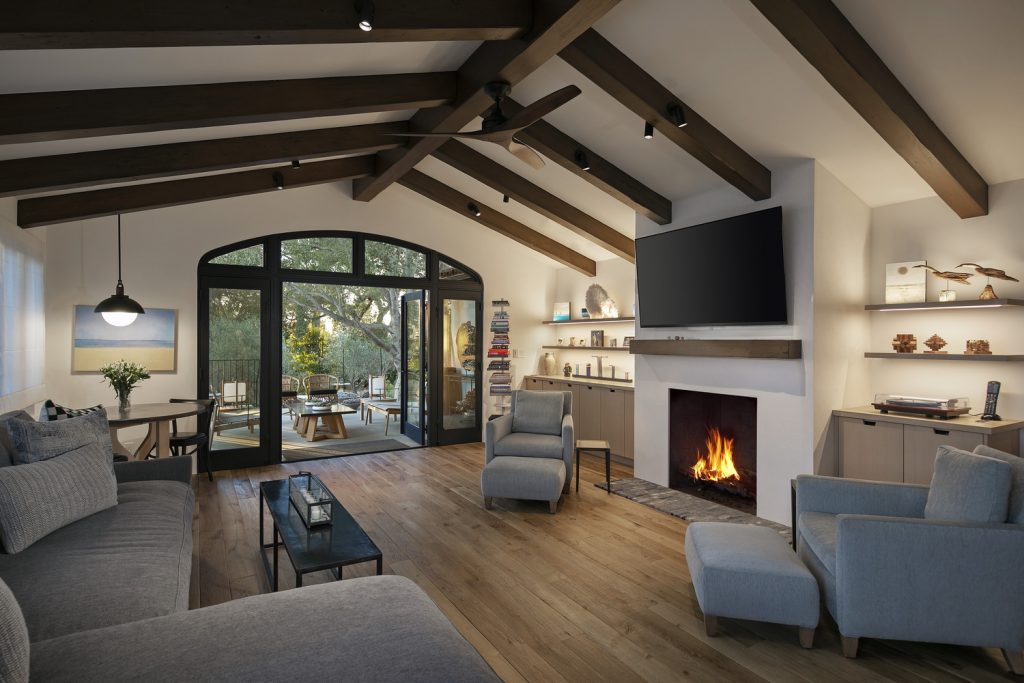 The scope of this extensive remodel on the Riviera included an exterior overhaul of the front entry and landscaping, plus new windows and doors throughout. Inside, Harrison Design's Barbara Lowenthal headed up the project, aligning updates across a rearranged floor plan while respecting the original architecture. The result took home the 2021 Luxe RED (Residential Excellence in Design) regional award for restoration or renovation. For more on the project, here's Lowenthal.
G&C: How did you become involved and what was your role?
Lowenthal: Bruce Giffin (cofounder of Giffin & Crane) asked Harrison Design to interview with the clients. He thought we would be a good fit. I was hired as the interior designer and project manager.
What was the scope of the project?
Interior remodel and reconfiguration of the floorplan while remaining true to the historical architecture. New front entry. New doors and windows. New landscaping.
What did the owners have in mind and was their vision attainable?
I was told by the owners that the main reason they hired Harrison Design was because I asked the question, "What do you see for your home?" They had a very clear vision yet were very open to ideas. Fortunately, they also had a great aesthetic and appreciation for the architecture and the use of reclaimed materials for the interior.
Any challenges pop up?
There were a few. We tried to keep the fireplace in its place but it just didn't work, so we managed to move it without having to move the entire flue and chimney.
There were two different ceiling structures and we wanted the new kitchen ceiling to match the original, while adding skylights. Bruce and I had quite a lengthy discussion about how to achieve this, and we came up with a solution that worked beautifully.  
We made changes to the floorplan which were a bit tricky to lay out. But in the end, we were able to give the homeowners a larger master bath and closet, small laundry room, and add a powder room.
Sounds like teamwork was key.
We had set meetings with the owners and Giffin & Crane, and I think this helped immensely in overcoming the challenges that came along.
Looking back, what's your lasting impression?
This was one of my favorite projects. The materials that the owners selected were all of great quality and design.
I am always so delighted when clients become friends, as in this case. We had a great working relationship, and I think it is reflected in the finished home. We always want our clients to be a part of the design and to be thrilled when their home is completed.