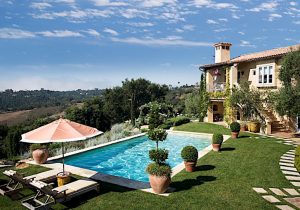 When Chris Dentzel's neighbors purchased a flat, hilltop parcel on the western end of Santa Barbara's picturesque Mountain Drive, they invited him to design their dream home. They'd traveled Europe quite a bit and had fallen in love with the living spaces outside city centers, where resident architecture radiated comfort and country charm.
When they asked Dentzel to design them a farmhouse, he got excited. At the time, he happened to be wildly smitten with Italy, particularly Tuscany and all its traditional farmhouses. "So I gave them an Italian farmhouse," he remembers. "But they said, 'Oh, no, we want a French farmhouse."
Dentzel went back to the drawing board, but not in the sense of the old saying. Instead of starting over, he made a simple change. At their next meeting, Dentzel unveiled drawings of the very same farmhouse, but with the window sashes in the provence blue so common to France's southern homes along the Mediterranean. They loved it.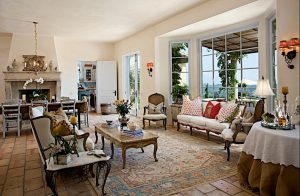 Following about a year in planning and permitting, the all-new home spent another year in construction. Finished highlights include: imported French terra-cotta and carved limestone fireplace surrounds (pictured, above), installed by Santa Barbara Stone; oak beams (picture, below) hand-hewn in the 19th Century; and fire sprinklers and tempered window glass to meet strict building codes for mountainous areas prone to wildfire.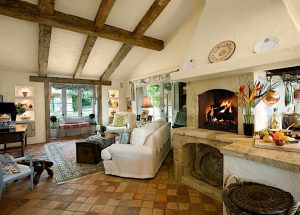 The home covers 5,500 square feet with four bedrooms, four baths, and a second-story master suite.
(By Keith Hamm, with photos by Jim Bartsch)