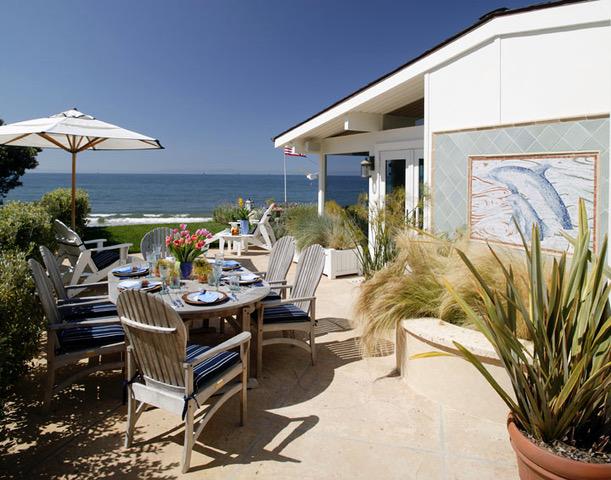 Since first launching her landscape design career in 1982 in Los Angeles, Alida Aldrich has stayed true to three pillars of her craft: respect for a site's existing landscape; careful consideration of surrounding architecture; and above all, a loyalty to client vision. Throughout Santa Barbara and Montecito — where she relocated her headquarters in 1996 — The Aldrich Company's time-tested approach is well-suited to the region's picturesque parcels, architectural review, and homeowners' sophisticated and discerning taste. And it shows. Aldrich has won design awards from the Montecito Association, Santa Barbara Beautiful, and — four years running — international "Best of Houzz" accolades. Her services include complete conceptual design, full working drawings, installation oversight, and maintenance supervision. For more, visit her site: http://www.aldrich-landscapes.com
We caught up with Aldrich to hear about bit more about Central Park influences, the boon of being her own boss, and a certain Supreme Court justice.
G&C: What drew you to landscape design early on?   
Aldrich: Decades ago, having developed a passion for working in my own garden, I enrolled in the Landscape Architectural Program at UCLA (with tree and plant courses at Pierce College, in the San Fernando Valley). That formal education gave me the confidence to open my own landscape design studio.
What has been your favorite work-related field trip or vacation?
New York City's Central Park. Within the larger 843-acre park, there are numerous smaller parks, each with its own distinct design character. It's remarkable how Fredrick Law Olmstead's original designs continued to thrive, offering pleasure to city dwellers for more than 160 years.
What is your favorite public landscape design in Santa Barbara?
Alice Keck Memorial Park is a perfectly scaled jewel. Everyone can stroll through to see various examples of the Mediterranean plant palette best-suited to our region.  
Where do you find design inspiration outside of work?
By seeing other landscape designers' and architects' work on my walks around different neighborhoods in Santa Barbara. Also from magazines, and online articles and photos.
What do you most like about your job?
I treasure setting my own calendar and being my own boss.
What do you most dislike about your job?
Failure of others to do their work properly and timely. There are many trades involved in installing a garden design. One trade dropping the ball can throw the whole project off kilter.
If you had to go back to pick another profession, what would it be?
I'd choose anything having to do with music. Music — another art form — compliments my creative nature.
What is your current state of mind?
Contentment.
What is your idea of perfect happiness?
I don't believe there is such a thing — it would be a fool's errand to try.
What is your greatest fear?
Loneliness.
What is your greatest extravagance?
Travel. I have been fortunate to have lived and visited a number of locales around the world. It's a marvelous way for personal and professional expansion.
If you could change one thing about yourself, what would it be?
Routine. It's lethal.
What do you consider the most overrated virtue?
Temperance. We're only here for one go around — no sense in holding back!
Which talent would you most like to have?
Playing an instrument.
What do you consider your greatest achievement?
Educating myself and starting and running a successful landscape design business for many years.
What is your most treasured possession?
Friends. You simply cannot get thru life without them.
What do you most value in your friends?
Compassion.
Which living person do you most admire?
RBG
Who is your favorite fictional character?
Miss Piggy.
Who are your heroes in real life?
First responders.
On what occasion do you lie?
Only as a last resort to lessen someone's pain.
What is your most marked characteristic?
Curiosity.
What word or phase do you most overuse?
Wonderful.
What is your motto?
"Inspiration is for amateurs — the rest of us show up and get to work.'
— American painter and photographer Chuck Close.