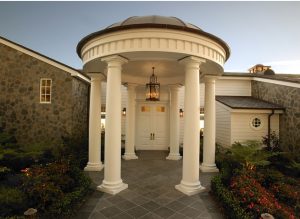 Brothers Joe and Tom Mathews started out when they were kids, sweeping sawdust at their dad's cabinetmaking shop. As they got older, they came in on weekends and during summer vacation to absorb the trade. Then it was off to college to get in some more bookwork before coming back to help run the place as business ramped up and the small shop became a big shop. These days, with dad long retired, they own it.
Architectural Millwork of Santa Barbara occupies the corner of Nopal and Quinientos streets, in Santa Barbara's Lower Eastside industrial neighborhood, directly across the street from where Joe and Tom's dad, Ron Mathews, opened it in 1969. "Working as a foreman in a construction company at the time, my dad saw an opportunity to build cabinets," Joe says. "He started out renting a microscopic room with a table saw in it."
Today, Architectural Millwork hums and buzzes inside a 19,000 square-foot facility with a showroom, conference space, upstairs offices, and, of course, a state-of-the-art woodworking shop. Joe and Tom's crew consists of draftsmen, estimators, project managers, and more than 20 sets of hands in production and installation. You name it: cabinets, doors, windows, moldings. All of it expertly crafted to look good, function perfectly, and last a long time, like the quarter-sawn white oak ticket counter at Santa Barbara Train Station (pictured, below). And there's everything from big jobs, such as fabricating dozens of identical wardrobes for the new dorms at Westmont College, to "a custom fireplace mantel for the little old lady up the street," says Joe, who understands the bond between man and wood.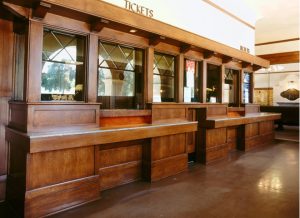 "Wood is a very therapeutic, enjoyable product to work with—It's the feel. The smell. From working with your hands on a small piece to the heat from the fire in your cabin," he says philosophically before circling back to the realities of running a business. "But it's a whole different thing to do it as a living. You really have to be on your game. It's all about relationships—listening to your clients and understanding their needs. You have to be relentless about taking care of them." In that respect Joe and Tom are big on communication platforms more traditional than texts and email. Call your clients, says Joe. Meet them, shake hands, and have face-to-face conversations about custom bi-folding glass doors (pictured, below).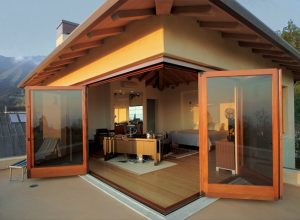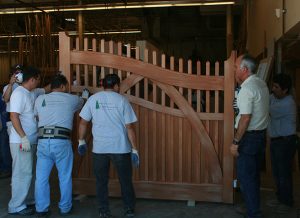 In business for nearly half a century, Architectural Millwork is building pieces for the children of some of their former clients. "We try to grow with our clients," says Joe (pictured, above right, with a custom gate), a sentiment shared by Giffin & Crane, who's been in business since 1986. "Working with Bruce and Geoff is the best," Joe says. "They have great staff and the work flows well. They're honest and they pay their bills on time. 100% professional. At the end of the day, it's not just Giffin & Crane building a house. It's Giffin & Crane and 40 subcontractors building a house. They know that, and that's why we all succeed together."
(By Keith Hamm, with photos courtesy of Architectural Millwork.)